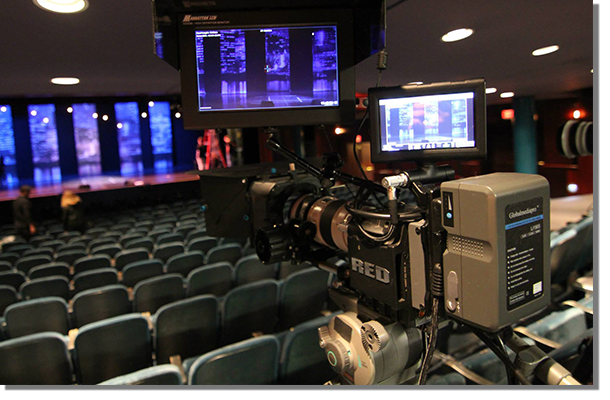 It's always helpful to see who a production company has done work for. Below is a partial list of most of our clients and some of the projects as well.
CORPORATE SALES/MARKETING CLIENTS & PROJECTS
Ageology/Various Promo Videos – Based in Chicago several videos were produced for the health group to use in their marketing and awareness efforts. Some videos included messages from their President while others were interview based with their patients. Additionally a video was produced to help explain their software interface using a professional on-camera talent.
American Federation of Musicians/Referral Service Video – This new service was offered to help companies select entertainment for their meetings. It featured many local artists.
Andersen Construction/Various Videos – Several 'project' videos has been produced as presentations for bids to help share the company's vision for the project. In additional other videos have been produced on finished projects to show how Andersen works with clients and provide excellent service.
-ase Inc./Investment Video – Through the patenting of several hydrolyzing processes the company had a video produced that could help potential investors understand the technology and potential application.
The Benson Hotel/Promotional Video – To attract business a video was produced that showed off the hotel and Portland area.
Brighton Beach Estates-OMAC Advertising/Promotional Video – This new land development on the Oregon Coast needed a video to show the property and the area to potential buyers throughout the West Coast.
Brick-Anew/Marketing Video

 – The video had a two-fold purpose, to show and convince retailers to pick up the product and to help purchasers understand how to apply their kit.

Columbia Machine/Promotional Videos – Over three dozen videos has been produced for this client highlighting their heavy machinery, including concrete products machines and ancillary equipment. The Palletizer division has had Justice Pictures produce many promo videos highlighting their line of conventional palletizers.

Columbia Okura L.L.C./Promotional Vide

o

 – A related company, Columbia/Okura has had several promotional videos produced on their industry leading high-speed robotic palletizers.

Confederated Tribes of Grand Ronde-OMAC Advertising/Various Videos for PR

 – The first video was one that told the history of the tribe and it's rights to exist in the area for governmental purposes. The second video was to produce the 25th Restoration video that told of the tribes history and restoration which included historical photo use as well as interviews with the Tribal Council and other experts.

Dynamic Research Company-OMAC Advertising/Promotional Video

 – With some of the best industrial floor cleaners on the market a video was produced to help potential customers understand their product line and it's applications.

Eutek Systems/Various Videos

 – Included were a general product line video, a video for investor relations (showing off the company and it's technology to a potential buyer), a video highlighting a product installation, and multimedia audio for tradeshows.

Gram Lumber Company-RSG Forest Products/Promotional Videos

 

– The operation of the mill was highlighted, showing why the company is one of the largest cedar fence manufacturing companies in the world.
Luxury Tow Van Corp./Various Videos

 – The videos have highlighted the innovative tow vehicles of the company. They have been shown and used to help with financing, direct sales, and shown at trade shows as well as AAA events.

Northwest Medical Teams/Sponsorship Promotional Video

 – A video was produced to gain sponsorships for the mobile dental clinics. A story of a young man was told as to how he benefited from the free services offered by NWMTI.

MotorSilk/Promo Video

– Video showed how to use this fuel additive and talked about the benefits of using it.

One-2-Go/Marketing Video

 – To help secure Asian distributors a video was produced on a toy that showed its benefits and features.

OMNI Products/Various Videos

 – Almost a dozen promotional/instructional videos have been produced for the company highlighting their rail crossing products. Six language versions were produced for one video in particular. 

Portland Ballet Theater/Dancer Feature

 – A feature video was developed for one of the company's dancers that had an opportunity to compete for a top honor at a program in New York. Worked with James Canfield on the project.

PowerCleat/Promotional Video

 – The company developed an incredible new invention, a tire that, when a special inner tube was inflated, snow studs would rise and act as traction. The video was targeted at car manufactures.

Recycled Technology/Various Videos

 – Promotional video's included an overview of their entire product line of recycled rubber products for road safety as well as specific product videos for the Restrictor and SafeLane.

Spirit Mountain Community Fund/PR Video

– The main video produced is used in outreach to the community that tells the tribe's history, the history of the fund, and then interviews various organizations that have received funds and how it has benefited the community.

Todd Williams-Management Consultant/Website Promo Videos

– Wanting to expand his speaking business Todd had us come on location to shoot some of his speaking engagements as well as come to his office to shoot him talking to the camera so that he could use them for visitors to his website.

Transdatanet/Promotional Video

 – The software company has a system that totally automates the process of tracking usage and time for propane delivery companies. This video helped potential customers understand the benefits and sell them. 

Various Commercials

 – Produced and directed commercials for Autumn Fest, Pendleton Woolen Mills, and Warn Industries.
OTHER PROMOTIONAL/MARKETING CLIENTS: CB Commercial, Crossroads Church, Datasoft, Greenweld, ITEX Corp., MEI, New Song Church, Northwest Speakers Connection, OECO, Oregon Speakers Association, Pac-Lube, Quantum Visions, Shooter's Emporium, Western Star Software, Weston Pontiac Buick and GMC Trucks, Portland Rescue Mission, Ryan Industries, West Coast Equipment, Willoughby's & Word Publishing.
CORPORATE TRAINING/ORIENTATION CLIENTS & PROJECTS
Adidas America/Harassment Training Video – Utilizing dramatic scenarios and on-camera training this 25-minute video helped employees understand harassment. The video was distributed company wide to corporate offices and retail stores.
Alcatel/New Hire Orientation & 14001 Compliance Videos

 – With accelerated orders Alcatel needed a standardized new hire video that told about benefits as well as taking the employees on a tour of the plant. The 14001 is an environmental compliance and the company needed a video to help train employees, helping them to comply with the program.

American Federation of Musicians/National Report

 – The Portland chapter had been doing an exceptional job in their marketing efforts to companies and musicians. The national office took note and wanted a video that told all of the other chapter's worldwide what they were doing to be so successful.

Bank of America/Various Videos

 – Primarily produced for internal presentations and general employee training the videos highlighted events and programs such as the young entrepreneur's program and neighborhood involvement. 

Blowout Video/New Hire Orientation

 – Having over 130 video stores across the nation this new hire orientation was produced welcoming New employees to the company and providing some basic information on the expectations of employees.

Columbia Machine/Training Video Series

 – Over a dozen videos have been produced training end users on everything from how to install wear parts on their large concrete block machines to general maintenance of the block machines and pumps.

Columbia Sportswear/Various Videos

 – Videos that were produced included the new hire orientation for all employees, a documentary style production on the building of the Flagship store, fabric training, and a distribution center video tour.

Confederated Tribes of Grand Ronde/Various Governmental Videos

– Have been brought on to produced videos for tribal use including a video on the tribes youth addiction treatment program, the yearly canoe journey, and multiple cultural preservation videos that covered drum-making, beading, weaving and clap-sticks.

Copeland Lumber Yards/Sexual Harassment Training & Asbestos Orientation Videos

 – Customized bumpers were produced to wrap around a generic sexual harassment video. Working with PBS Environmental and the safety department at Copeland, a 90-minute video was produced that incorporated a training session and slides that dealt with asbestos in their facilities.

G.I. Joes/401(k) Orientation

 

– This video described the retirement plan to the viewer and encouraged them to invest through the generous plan. Employee interviews were used as well as a presentation by the management company. 
Great Western Chemical/Bar Code Training Video

 – The company installed a new bar code inventory system at a pilot site and decided to go with it throughout the entire company. This video explained the system and showed how it worked.

Hoffman Construction/Hearing Loss Tape

 – To help demonstrate the potential hearing loss on construction sites this audio presentation was produced which used music and several band pass filters to simulate hearing loss.

Kiewit/Various Videos

– The company became a client in 2011 and a dozen or more videos have been produced for the company and various division. These include videos for their yearly meetings; regional as well as national.

McCall Companies/New Hire Orientation & Driver Safety Video

 – The new hire video covered general orientation of the conglomerate of companies, their general benefits package and what employees could expect. The second video was produced for their drivers, training them on the different oil and hot mix racks. A simulated spill was shot and provided instructions on clean up.

Nlets/Law Enforcement Video Training Series

– Designed to train law enforcement agents across the nation this set of videos featured locations from the steps of the Capitol in DC to the air patrol in San Diego and interviewed various experts in law enforcement. Several 'dramatic' scenarios were also produced for the series.

Rose City Moving & Storage/New Hire Orientation

 – With a certain amount of turnaround from moving season to moving season this video was produced to standardize procedure, safety and customer relations training.

Rentrac/U.S. Operations Orientation

 – The sister company in Japan hired Justice Pictures to document several video stores to show how retailers here run their operations.

Shari's Restaurants/Training Video Series

 – Different training series were produced to help Server/Hosts, Cooks, Bakers, and Dishwashers in their jobs. Nine videos have been produced so far with several having accompanying Spanish versions. Additionally a regular cooking style show was produced for line cooks to help them cook the new dishes.

SMART (Start Making a Reader Today)/Volunteer Training Videos

– Many people each year volunteer for reading to children. Various training videos for different age groups were produced over 2-3 years, including versions in Spanish.

Stimson Lumber Company/Benefits Video

 – Slides were taken from the standard 401(k) and general benefits Power Point presentations, voice over added along with music to give employees an idea of what they were offered.

United Parcel Service/Computer Orientation

 – With a new driver computer being installed in the long haul trucks the company wanted the union to see how much the drivers liked the new system and how it made their job easier.

Voicestream Wireless/Event Video

 – For internal use the video highlighted employees at the "Grocery Grab."
OTHER TRAINING/ORIENTATION PROJECTS: The Idea Agency, PBS Environmental, Rentrac, SRTC, Sweet Adeline's and more.